Voting Delegate Orientation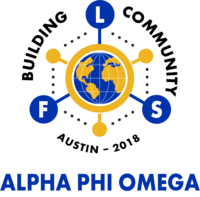 Your chapter has selected you as a voting delegate to the 2018 National Convention in Austin, TX. Congratulations and thank you for accepting this important position! The National Convention is the supreme authority of Alpha Phi Omega. As a voting delegate, you will have the opportunity to shape Fraternity policies and elect a new Board of Directors.
This orientation will give you a head start in preparing for your important role as a voting delegate. Please complete each chapter, as well as the two quizzes.
This course should take no more than 30 minutes to complete. Additionally, you are able to complete this course at your leisure, meaning if you exit in the middle of a chapter, the course will save your spot.